Rep. Ashley Hinson, R-Iowa, on Wednesday took aim at Homeland Security Secretary Alejandro Mayorkas for why the agency's budget request makes little mention of cartels or transnational criminal organizations.
"Mr. Secretary, are you aware of how many times in your budget request you mention the word 'cartel?'" Hinson asked at a House Appropriations subcommittee hearing.
When Mayorkas said he was not aware, Hinson responded.
"It's zero."
"Oh congresswoman, we are…" Mayorkas replied.
TEXAS SEN. CORNYN TEARS INTO MAYORKAS OVER FENTANYL, BORDER CRISIS: 'YOU SHOULD BE FIRED'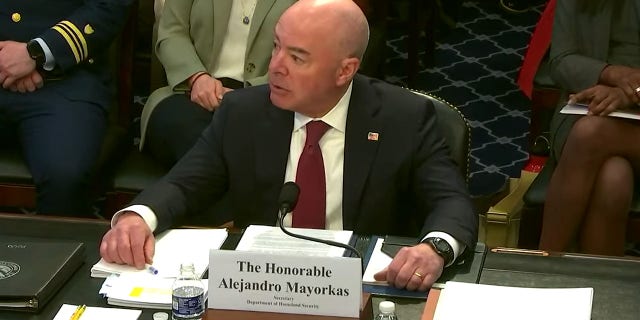 "In the 100 page document that you submitted, you mention the word 'cartel' zero. You mentioned 'transnational gangs' once if that's your preferred way of addressing the term, what you call cartels," Hinson continued.
"I'm very concerned when you say you're addressing the cartels in unprecedented ways," she continued. The cartel activity along the southern border and in the homeland has escalated and I can say both times that I have visited the southern border, I have seen that countering the cartel activity was a number one concern for our CBP agents. But it's a clear indication that you're not listening to the men and women on the front lines," she said. 
Hinson then asked if Mayorkas would agreed that "the cartels are a cause of the uptick of the deadly fentanyl surge in our country and the violence at our southern border?"
Mayorkas used that moment to take issue with Hinson's point.
"I agree 100% with that, and I disagree with 100% of your mischaracterizations of our commitment to border security, to tackling the cartels, to battling fentanyl and the fact is that we are supporting fully the men and women, the personnel of the Department of Homeland Security," he said.
Both Republicans and Democrats have agreed that the fentanyl crisis — which is smuggled across from Mexico after being produced with Chinese precursors — is a pressing issue, with more than 70,000 Americans dying a year.
GRAHAM SAYS 'AMERICA IS UNDER ATTACK' FROM MEXICAN DRUG CARTELS: 'WE NEED TO BE AT WAR WITH THEM' 
Republicans have focused on the lack of security at the southern border, particularly between points of entry. They have noted recent remarks by Border Patrol Chief Raul Ortiz, who said that the agency does not have "operational control" of the border. Mayorkas has responded that by the strict definition of the term, there has never been operational control of the border.
Meanwhile, Democrats and the administration have pointed to statistics that show the majority of fentanyl is seized at ports of entry rather than between them — and therefore say that measures should be focused at the ports specifically.
The claim sparked a fiery clash in a separate Senate hearing on Tuesday, where Mayorkas cited a 90% number for fentanyl coming in at the ports — which Sen. John Cornyn, R-Texas described as a "made-up" number.
Mayorkas laid out his budget request in his opening remarks, which proposes the hiring of over 1,400 additional Customs and Border Protection (CBP) personnel, including 350 additional Border Patrol agents and 310 additional Border Patrol Processing Coordinators.
CLICK HERE TO GET THE FOX NEWS APP
It also proposes $535 million in new funds for "border technology."